Over the past 20 years--whether it was from his perch on the Planning Commission, CRA Board, Airport Commission, etc.--Dan Garcia has seen, done or voiced an opinion on almost every facet of development and quality of life here in the Los Angeles region. TPR was pleased to talk with Dan about the infrastructure in Los Angeles, what's lacking and how we can utilize the dwindling civic and business leadership in the region to shape a new vision which not only prioritizes the individual aspects of housing, redevelopment and transportation, but begins to link them into a cohesive plan for economic investment.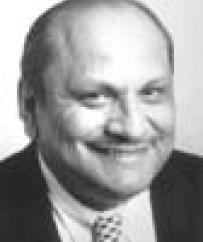 Dan, you've held almost every Commission chairmanship of significance in the City over the past 2 decades. With that experience, I want to take you quickly through some of the issues which will dominate the City of L.A. during the tenure of this new Mayor and Council. Let's begin with getting your thoughts on the airport. It seems as if it is trying to redefine itself yet again. You spent a number of years on that issue. Give us a sense of where it is now and where it's likely to go in the next year or two.
One of the obvious factors that will determine the ultimate design and fate of the LAX masterplan will be whether the public will begin to use air transit at levels similar to those pre-9/11.
The aviation industry was profoundly shocked by the events of Sept. 11. And one of the most impacted areas was the question of where the market is going and what the future of air transit will hold. Now instead of asking how to meet the anticipated rise in commercial demand from overseas destinations, or how the LAX facilities and operations can adjust to handle increased traffic loads, we are asking ourselves about security. Security, not growth, has become the prevalent short-term issue in the minds of many policymakers as they attempt to determine the future of the airlines and air transit.
That drastic change has tremendously complicated questions with respect to the demand needs that LAX will have in the future. This new set of circumstances is something that the planning efforts that we started during my tenure at the Airport Commission did not even fathom. However, focusing exclusively on security is only responsive to the short-term preoccupation at the public policy level.
Like many other airports, LAX has struggled to figure out how to balance the necessity of this increased security with the tremendously adverse effect it has on passengers and the air transit economy. That frustration is not unique to L.A. But the jury is still out on whether- given all the pressure on LAX to perform-the kinds of security measures that have been envisioned by the federal government will really create an environment which still encourages people to use the commercial air system that is so vital to our region and our nation.
At this point in time it is impossible to have any idea what the future will hold. The Commission ought to consider taking a step back from the masterplan discussions and wait for 6-12 months to see how the industry shakes out. Then in that, hopefully, clearer light perhaps the components of security and demand can be looked at freshly.
As you say, LAX is an enormous economic driver for the region. However, it is only a component of the economics of L.A. Other components of that picture are planning, housing and infrastructure. You were a one-time chair of the Planning Commission and the Redevelopment Agency. There has been discussion for years about consolidating those Departments for the purposes of a more clear economic development vision. What would you suggest in the way of reorganizing the city to deal with the economic, planning and housing challenges that face this city?
During the campaign I suggested several things that had to be done in order to enhance the city's economic development agenda, the first of which was to create an overarching citywide economic strategy for planning policy. At the core of that policy would be the creation of a citywide grant-making office with the power to lobby both at the state and federal level. That office is sorely needed within the City and could enormously help our departments compete with other major metropolitan cities as we lobby for resources.
In addition to greater resources, there has to be more coordination among city agencies. Agencies like the CDD, CRA, etc. cannot operate in a vacuum. Those agencies must have a coordinated agenda as well as a new mission so that their roles in the different facets of economic development are consistent.
The CRA is a perfect example of an agency that fails to use its considerable power effectively. That agency has tools that no other agency has-eminent domain in particular-yet has become politically hamstrung because not everybody loves to use that tool.
To combat that, there needs to be redefinition of the CRA's mission to reflect the economic vision articulated from the Mayor's Office and the City Council. Those bodies must have a dialogue and create a vision that allocates city resources and the CRA's tools accordingly. Merely applying band-aids to 20 or 30 different pet projects in various council districts doesn't serve the Council or the City. Ultimately the CRA's activities as well as CDD, the Mayor's Business Team and other city functions have got to be part of an overall coordinated pattern of economic development activity.
Let's talk about a component of that agenda more specifically. There have been efforts to create a housing trust fund. There have been discussions for years about demand outstripping supply of housing in the core of the city. And there has been the belief by some that the current regulatory process hinders housing. Give us your sense of where the housing issue ought to go, in terms of public policy for Los Angeles.
Again, the key to providing housing in L.A. is truly the creation of a comprehensive citywide agenda which prioritizes agency cooperation as a vehicle to implement a consistent vision. I believe the Hahn Administration has begun to create such a vision by identifying housing as one of the primary components of its economic development and recovery plan for the city.
As such, they have begun to reverse the previous administration's allocation of $25 million in TNI funds away from the production of housing. That's enormously important because much of that allocation can not only aid the city in building more housing, but can help generate further tax credits and other subsidies, which make housing more viable. Our city's housing crisis-particularly the aspect of affordability-is one that cannot easily be reversed simply by accessing ordinary financial markets. So the aforementioned redistribution of funds can aid in the further stimulation of that market as well.
Dan, you've been working through your consulting firm with multiple cities including Long Beach. What lessons can we draw from what other cities are doing in this area, economic development and planning and neighborhood enhancement, that could be applied to every other city in the basin?
Every city is truly individual because there is no statewide guiding or integrative policies governing growth. There is no real state growth policy. The state has simply taken a laissez faire attitude toward it. Each local jurisdiction, whether it be the county or the city, is really left to fight its own battles. And because of that, many jurisdictions end up simply chasing those developments which are revenue-enhancing- the car dealerships you see along freeways are there simply because they generate tax increments that can be used to help enhance other economic impacts for municipalities. So the absence of a fundamental growth policy has contributed to that dysfunction.
However, while that is the overwhelming growth pattern for most cities, there are a few that have taken the bull by the horns and begun to plan more comprehensively. San Jose, for example, has established a relatively good connection between the business sector and the public sector in hopes of identifying some common objectives. And despite the current economy, many of the innovative ideas will ultimately be implemented and should create a better environment in terms of sharing some strategic components within the cities of California.
Additionally, since you ask about Long Beach, people are beginning to realize just how important the specific elements of growth planning are. If you were to drive up the Long Beach Freeway, you'd see the immense volume of trucks going to the rest of the region from the ports. It reminds you just how critical the transportation or circulation elements of specific projects are. Yet current projects, such as the Alameda Corridor, will only take care of the growth in traffic and will not diminish traffic over the long-term. That just shows you one small example of how, if we don't continue to plan on some meaningful regional level, we will not be able to enjoy the prosperity we've had for very long.
Dan, I want to turn to the nexus between schools, school facilities, planning and the vitality of our region going forward. You started doing public engagement again for your consulting project on an RFP process for a school to be built in LAUSD Downtown. What are you learning about the incentives and disincentives for trying to create leverage opportunities of funding, planning and neighborhood revitalization through the school facilities opportunities?
LAUSD has a daunting challenge. And I can understand the tremendous focus and political pressure that they feel simply to get schools built. But they are missing an immense amount of opportunities by continuing down that path.
I realize that the school construction process is dictated by a state framework that essentially prioritizes quick response time over quality. And I realize that that kind of framework doesn't encourage the kinds of community-based planning and integration of schools that one would like to see. And I am fully aware that it prioritizes jealousy and political terfdom. But, there must be a way to involve local communities and other partners so that these sites are enhanced.
I hope that after the School District has had some initial successes they might be able to take a breath and figure out a way to enhance the umbrella of good planning and execution of some of these sites so that they are more than merely schools, but are really viable extensions of the community.
Your friend and former partner Alan Bersin is now the Superintendent of San Diego Unified and spearheaded a couple of joint use efforts between the city and the community and the school district. As an example, City Heights, where they are replacing more housing than they are displacing in an old core neighborhood. Is that what we're looking for? Is that the model?
From what I've seen, the methodology for that area in San Diego is particularly important because of the long-felt neglect of some of those communities. Their sense of participation in the process is viable not just for the building of schools, but also for encouraging their participation in the scholastic enterprise that will take place there. It's a two-fold reward for doing that.
And while the argument can be made that such a process is relatively easier to do in a district like San Diego-which isn't spread out as much as LAUSD is-it's still a very good model for people in inner city situations-like we have here in Los Angeles-to look at.
Drawing this to a close, you were also a one time President of the Chamber of Commerce. Let's talk about how civic leadership intertwines with the issues we've discussed. L.A. has changes a lot and the leadership has changed. Where does the business leadership come from in this basin as you look forward to the first decade of the 21st century? How does it mesh with the political leadership to actually keep driving this engine we call the 5th largest economy of the world?
Ten leading national corporations once made a significant contribution to the structure of business society in Southern California. When they left, a new paradigm emerged of predominantly small- and medium-sized businesses. And while they have the potential to lend the same amount of leadership to the city, their ability to fund ongoing civic, non-business related activities is much smaller.
Additionally, this growth of small business, has diffused the community representation and made it more difficult to attain leadership. Many people simply don't have the time to be involved in government. We must find a way to overcome that and create the opportunity for not only a dialogue, but for the establishment of a political culture for businesses. We simply haven't figured out how yet.
However, while L.A. may not have found the answer, that is not to say that an answer is not out there. When one looks at the strides that organizations such as the Bay Area Council have made, we find that it is possible to link a number of small business operators and create the dialogue necessary to re-engage the business community. Again, we just haven't been able to implement it here yet.
Southern California's strength is really its weakness. We're huge, we're powerful and we're geographically and economically diverse. That causes many business enclaves to find a niche at a smaller level and have their own ongoing active life. As a consequence, they don't see the need to identify with a single, regional Chamber-type of organization. That challenge will continue to present itself and until the public sector tries to stimulate some coherence within the business community. I don't think we'll see a better dialogue.
Let's close with this, Dan. You were involved with policy formation for Mayor Hahn. Last year you were very skeptical of the past administration's lack of a vision for Los Angeles and proffered some hopes as to what a new Mayor could accomplish. Give us some sense of what you believe we can expect from this new administration over the next year.
The world changed after 9/11. And the preeminent concern of most citizens right now is being safe and secure. I don't see that changing in the short-term. That, combined with the current economic stresses, have caused an enormous feeling of distress in people's everyday lives. That will undoubtedly be the priority for any administration post-9/11.
To combat that, L.A.'s Mayor will concentrate on ensuring that there is a sustainable framework for economic vitality implemented throughout the region and that government is responding in a fashion that stimulates a better class of new jobs.
Finally, a lot of the facets that I envisioned as part of a policy agenda for the Mayor have been skewed by the secession fight. While that fight should not be rushed, it must be resolved. And I believe that Jim's leadership position opposing secession is important. Secession is profoundly bad for the city. It dissipates our resources, creates more divisions and truly Balkanizes Los Angeles. Regionally we already suffer from too many forms of government, not too few. People ought to be willing and able to stand up and look other people in the face and say that and we ought to oppose it. If Jim continues to take that leadership role, perhaps the debate will resolve itself quickly and we will be able to return to the real problems of the City.