Because of California's strict building codes and stringent environmental reviews, some out-of-state developers have shied away from urban infill opportunities in metropolitian Los Angeles. Not Richard Baron, President and Chief Executive of McCormack Baron. His firm, which once left California out of a frustration with lack of leadership at the state and local level re: housing, is back and committed to revitalizing the social fabric of our neighborhoods. TPR spoke recently with Richard about his firm's approach to development, which includes mixing housing and retail opportunities with public schools as "centers of neighborhoods."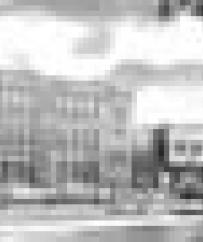 Let me begin by asking you to give our Southern California readers some background on your company's orientation and development strategy. What's your mission and goal in the projects you choose?
McCormack Baron has been focused on revitalizing the neighborhood fabric of declining areas through the development of housing and retail for the last 25 years. Our projects restore the built environment and generally reconnect the area with its adjoining neighborhoods in an attempt to rebuild the social fabric of a community.
However, the most prominent feature in many of our most recent intervention strategies is helping to foster or rebuild a meaningful connection to a neighborhood's schools-really using them as a focal point of the community.
What are the attributes that make a particular market right for this kind of revitalization plan?
Well, a real interest at the state and local level is essential.
Our projects typically can't be done in a "traditional" manner because we're providing low- and moderate-income housing. Therefore, we need help in the form of public or philanthropic assistance in order to make these projects really work. So that's really the fundamental criterion for going into a community-political will and the support of both the public and private sectors.
Last year you received the St. Louis award. In your acceptance speech you called on area businesses and philanthropists to take responsibility for reshaping the city school system. As you may know, L.A. officials pledged to end decades of forced busing by 2006 through a massive school construction program that calls for 85 new campuses in the district's most crowded neighborhoods. What are the lessons Los Angeles can draw from your revitalization techniques?
You have to connect families and schools, to completely reorient their thinking away from the school district and down to the local level and start to build meaningful relationships between the individual school and the community. That's the true challenge.
Los Angeles has an enormously dense population. Because of that it would seem you should have a far easier time linking schools and revitalization because you're already dealing with an indigenous population surrounding a number of the possible school sites.
In St. Louis, we've had to repopulate these areas while at the same time trying to upgrade the schools. In Los Angeles, McCormack Baron Salazar, Inc. is positioning itself to do the same. We're not only trying to reconnect families with the neighborhood school, but also recreate a built environment as well.
However, at the root of all of this is that urban schools are really no different from suburban schools in that they both need good teachers. The only difference is getting teachers to urban schools. And the trick to that is better incentives and a good environment. There's nothing terribly profound about that.
Let's flesh that idea out with a case example: the Adam's Elementary School and Community Center. You began with a community driven master planning process and parlayed that into grants from Washington University and First Star Bank. Tell us about that collaboration. Is it a model for others?
We've formed a collaborative comprised of a number of corporations and philanthropies who are really supportive of returning public schools to their place as a central element in both neighborhoods and revitalization strategies. The Adams school is an example of that strategy.
A partnership was forged to upgrade a 45-block area that was devastated 10 years ago when the Board of Education shut down the Adams school in favor of its busing plan. That single action tore the heart out of the neighborhood, particularly when the stabilized part of the neighborhood-which was really connected to the school-started to leave because, without a school, there was no reason to stay in the neighborhood.
So naturally, through our community planning process, we discovered that the community's highest priority was seeing that school reopened. To that end we were able to raise $6 million-in addition to the Board of Education's $9 million commitment-to restore the Adams School, add a community center, gymnasium and a number of meeting spaces for community programming. We additionally secured the St. Louis Cardinal's Foundation to underwrite the improvement of an adjoining park, so that we'll have a refurbished park, ball field and children's play area.
So it's been a great model. It's really a prototype.
Richard, you're described as a developer with a keen understanding that it has to be a community driven planning process. L.A. Unified has been struggling with doing its projects. The need is great, but LAUSD doesn't seem to have the time to be collaborative. Why is it essential to have community input driving this process?
Community participation is ultimately the way that one connects with the community. If you don't access and rehab these schools one neighborhood at a time, you will never get support. In most situations-particularly in low- and moderate-income communities-you simply cannot impose this kind of thing from a top-down model. It won't work.
Schools are a resource for the community. They are the one place where families can connect outside the home. And education is probably the highest priority of any family. Having the ability to connect with those families in that kind of a setting is a very important factor in stabilizing family situations and creating better expectations for the parents and the neighborhood.
Let me talk about housing because that's the nexus between your two interests now. The School District in L.A. is talking about perhaps displacing approximately 1,200 houses and apartments and relocating the residents as a way of finding land to build new schools. What's your advice and counsel on how to make this a constructive and successful land-use venture by the school district re: housing?
I would advocate for some alternative way that schools could be created, either in abandoned shopping areas or other places that wouldn't be traditional school settings but might work very nicely as a conversion. That alone might be a way to avoid some of that dislocation. All it takes is a little more ingenuity and perhaps an intermediary to work between the neighborhoods and the school system in these creative systems.
School districts are notorious for using rigid formulas that they claim are required by state law and regulation. Often times it's all just smoke and mirrors because the technical staff in the Board of Education doesn't like to deviate from their standard rules. We all know the mantra, "We've got to have 8 acres, we've got to have so many parking spaces, it's got to be this, that and the other."
There may well be a way to recycle industrial property or other under-utilized spaces in these neighborhoods to create schools and avoid dislocating families, but creativity causes such discomfort among the engineers, they simply don't want to have to hassle.
Elaborate on these intermediaries and what the governance and financial structure is of these projects you're working on in St. Louis.
We've created a number of 501(c3) entities that act as intermediaries between the neighborhood and the schools. They target neighborhood banks, small business owners, and longtime residents of the community-really anyone that is an important stakeholder.
But in truth, any governance structure that links community involvement and the ability to apply and disseminate philanthropic or state dollars will suffice. That kind of stabilizing factor is just critical in these neighborhoods.
Richard, what's the business angle? What's the financing structure that supports this collaborative effort and leads to a project being built?
We're primarily relying on the dollars that flow through the school system for capital improvements, but the gap-financing really comes from local philanthropies and other private support. That's how we've been able to fund the ancillary programming we've been talking about.
Last question, Richard: We last ran an interview with your firm when you were leaving Los Angeles and California as a housing developer. Talk a little bit about what would bring you back.
We are back. McCormack Baron Salazar, Inc. is based in Los Angeles. We returned after the Tax Credit Allocation Committee eliminated the lottery and went back to a merit system of distributing credits. Tony Salazar is heading up that office and is working on the Aliso Village HOPE VI housing development right now in Downtown L.A. The Utah Elementary School is located in the heart of this 35-acre site. Hopefully we can engage that school, your school district and the surrounding neighborhood in this kind of programming and help to create some of the success that we've seen here in St. Louis.