In November, TPR published a roundtable to discuss what should be built on one of L.A.'s largest remaining open tracts of land,Chinatown's "Cornfield." The community was mentioned frequently, but never in the context of federal nondiscrimination and environmental justice requirements. Now, TPR is pleased to expand the debate even further with Robert Garcia, Senior Attorney and Dir. of Environmental Defense's L.A. Project Office, who talks about the need for environmental cleanup standards, more community involvement, and why Majestic Realty's proposed warehouse project may violate federal civil rights laws.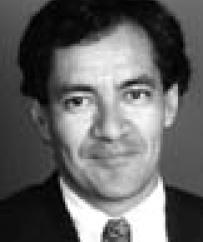 Robert, in November, The Planning Report ran a roundtable discussion on the Cornfield property in Chinatown. Give our readers a sense of why Environmental Defense is interested in this project, who your client is and what results you seek.
Majestic Realty and Union Pacific are currently proposing to convert the 47-acre Chinatown Cornfield into a warehouse project. They are seeking about $14 million in federal brownfield cleanup dollars to make the deal profitable for Majestic. From our perspective, that's a misuse of federal funds specifically, and public funds generally. There are no parks in Chinatown. Chinatown has no middle schools or high schools. The children of Chinatown have to be bused 45 minutes each way to school. In order to play in a park, they have to take a bus or find some other form of transportation to another neighborhood. In addition, the Mead low income housing project is on the Cornfield's east side. If the site is made into warehouses, the people of that housing project would be sandwiched between a men's jail on one side and those warehouses on the other side.
The Cornfield site would be much better as a mixed-use school and park site than as a warehouse site-not only for the neighborhood, but for all the people of Los Angeles. This City is park poor. We have fewer parks per thousand residents than any other major city in the country. The City Council district where the Cornfield is located has 0.3 acres of park per thousand residents-the lowest of any Council district, as compared to 1.7 acres per thousand residents in relatively white, disproportionately wealthy parts of West L.A.
We've filed letters with the City of L.A. and federal HUD authorities raising these concerns. Under federal civil rights and environmental laws, we believe that before federal dollars can be spent to clean up a brownfield, both the recipient of the federal funds and the federal government itself must consider the impact of their project on communities of color and low-income communities. According to 1990 census data, Chinatown is 42% Asian, 17% African American, 30% Hispanic, and only 11% Anglo. Similarly, the central city near the Cornfield project is 13% Asian, 23% African American, 42% Hispanic, and only 21% Anglo. The proposed warehouses are further evidence of the City's continuing insensitive treatment of the Chinese community that was relocated to Chinatown after being uprooted to make room for Union Station in the 1930's.
So using federal funds to build warehouses there is discriminatory because it has an adverse impact against communities of color and low-income communities-and there are less discriminatory alternatives. Nobody would be proposing the construction of such a large warehouse project on a 47-acre parcel in West L.A.
HUD gave the City of Los Angeles 15 days to respond to our concerns, which was due December 24th. The City has failed to respond to date. We are continuing to pursue this along with Friends of the Los Angeles River and Jan Chatten-Brown and Associates. We're also working with community-based activists, and we're trying to bring in other civil rights and environmental organizations as well.
The Mayor's Office-specifically Rocky Delgadillo-and Councilman Mike Hernandez are both supportive of the project, as evidenced by the Councilman's statement to us last November: "For the eight years I've been in this office and more, the land has been vacant as businesses have left Chinatown and retail downturns have hit Chinatown and Lincoln Heights. In that eight years, FOLAR has never proposed a project that could be funded, and Majestic has a project that they believe can be funded." How do you respond?
The School District should investigate this site as a potential middle school or high school. We've contacted school officials about that. Likewise, the Mayor's Office, through the Recreation & Parks Department, should investigate this as a park site. We've contacted Steve Soboroff, the head of Recreation & Parks and candidate for mayor, about that. We're also scheduled to meet with the Mayor about this issue.
We're particularly surprised that the Mayor supports this as a warehouse project because shortly after we submitted our letter to City and federal officials, the Mayor was quoted in the L.A. Times as saying, in effect, that children come first in a clash over a site between children and business. This is a site over which children and businesses clash. We believe children should come first-the Mayor should follow up with that commitment.
Friends of the Los Angeles River in fact has submitted a visionary proposal for a joint-use, mixed-use school, park and lake project to City and other officials. Federal, City and school officials do have the funds. There are also March 2000 park bond funds that could be made available to convert the Cornfield into a school and park. The federal brownfield cleanup dollars are available to clean up the site. Certainly, if the federal government would be willing to make them available to Majestic and Union Pacific, they should be more than willing to make them available for a school and a park.
One justification for the warehouse project is that it will create jobs for the neighborhood. While that may be true to some extent, parks and schools would create higher paying, more interesting, more promising jobs for the neighborhood, as compared to minimum wage warehouse jobs. So we believe a mixed-use site would better serve both the economic and environmental interests for this neighborhood and for all of Los Angeles.
You also serve on the Prop. BB Citizens' Oversight Commission for L.A. Unified and you testified on January 14th at Senator Alarcon's Senate Select Committee on Environmental Justice about this matter and the nexus between cleaning up brownfield sites and building new schools in dense, urban neighborhoods like Chinatown. Could you give our readers an executive summary of your testimony?
I raised many of these same points. Brownfields raise concerns that lie at the intersection of the environment on the one hand and race, ethnicity and class on the other hand. The conversion of brownfields to green and clean schools and parks is an opportunity to help make Los Angeles into a sustainable, livable city.
The absence of standards on "how clean is clean enough?" to convert a brownfield into a school or a park site is a central issue that must be resolved. Unless the standards are clear, we can't know if a site is safe. We can't even decide how much it would cost to clean it up. The civil rights community wants schools built now. Environmentalists want clean schools. Everyone wants what is best for the children. We must find a common ground.
Environmental Defense is working on that very issue with Connie Rice, the ACLU, the Mexican American Legal Defense Fund, the Natural Resources Defense Council and others. That was the thrust of the hearing before Senator Alarcon-how clean is clean enough for converting brownfields into schools? We will continue to work with Senator Alarcon's committee and other community-based organizations, civil rights advocates and environmental advocates to create a broad coalition and find common ground on this question that is very important for Los Angeles and for many cities across California.
To be fair to the petitioners for the Cornfield site-John Semcken of Majestic and others-Kim Benjamin, Vice Chair of the Chinatown Business Council, said the following in our November roundtable: "LACBC represents the largest voice in Chinatown bar none. We represent $150 million of property owner interests and employ over 5,000 people. We represent 600 family-owned businesses, and we support Majestic's proposal." How do you deal with this community support in light of the seriousness of your contentions?
The business support you mentioned could very well want warehouses rather than an empty brownfield. But we're offering a school and park package that is much more appealing to those business interests, as well as to community-based advocates and the children of Chinatown: BB funds for site acquisition, federal brownfield dollars for cleanup, and March 2000 park bonds for other expenses.
We see this as an important opportunity for us to get the word into the communities-not just Chinatown, but the surrounding Hispanic community as well-that there are less discriminatory alternatives that are more equitable, promote more economic vitality, and are more environmentally sound than the proposed warehouses.
In closing, taking into account your involvement in this matter with Environmental Defense and Prop. BB as well as your environmental credentials, what would you suggest the planning process be for opportunity sites like the Cornfield? What role should the community play in these larger debates about priorities? And what should the overall process look like?
We believe that under federal civil rights and environmental laws, as well as under State environmental justice, environmental and other laws, there is a four-part framework in place that's not only good policy, but also good law.
First, relating to overall goals, agencies should achieve results that are equitable, are environmentally sound, and promote economic vitality when spending public funds to convert brownfields.
Second, agencies must gather, analyze and publish the information necessary to understand the impacts of their actions on all communities, including communities of color and low-income communities. In the context of brownfields, for example, we need to know: What sites are potentially available to convert into schools and/or parks? What brownfields are out there? LAUSD School Board members have said that they drive around looking for potential school sites. There has to be a better way. And there is a better way, but agencies such as the School Board or the City of Los Angeles must make site lists readily available. Similarly, as I've mentioned, we need to define standards for how clean is clean enough.
A third part of the framework is full and fair participation by all communities in the decisions that affect their lives, such as school siting decisions and cleanliness standards.
The fourth part of the framework is that there can be no discrimination-that means no intentional discrimination and no unjustified adverse disparate impacts for which there are less discriminatory alternatives.
If you apply that framework, specifically in the context of the Cornfield, schools and parks are a much better use of that site than warehouses.
<