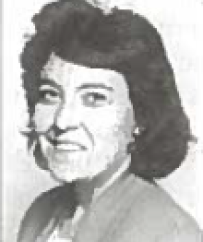 Clare Bronowski: "Is there a perfect location for rail hauled trash? Probably not. There is no location that could ever be approved without opposition."
By Clare Bronowski, a partner at Christensen, White, Miller, Fink, Jacobs, Glaser & Shapiro, LLP, who represents Waste Management, Inc., Rail Cycle, and San Bernardino County.
Planning for the future is a difficult and sometimes painful task, especially when it comes to the siting of controversial uses. The approval of Rail-Cycle's Bolo Station landfill site by the San Bernardino County Board of Supervisors and the defeat of Measure L by the voters is a commitment to the future and is San Bernardino's pledge to participate in a regional solution to the long-term waste disposal needs of Southern California.
Ten years from now there will no longer be safe, cheap methods to dispose of solid waste in Los Angeles County. Our landfills will be full and our residents will not tolerate the filling of any more environmentally sensitive canyon sites. After years of study, the regional solution to solid waste has been found: waste transfer to local facilities, sorting of all re­usable materials to maximize recycling, and finally, disposal of remaining solid waste by rail transport to distant landfills. There is little doubt that this is the only real solution for the next hundred years and beyond. 
The next question of course is where to put these large landfills. We know that such a site should be remote in location, far from populated areas, in an arid environment, close to existing rail lines and major highways, protected from existing drinking water sources, removed from any known earthquake faults, far from any sensitive species or habitat, and removed from any other sensitive feature or land use.
The Bolo Station landfill site meets all of these criteria. Its extensive siting process was initiated in 1989 and included expert studies on all aspects of the geology, hydrology, biology, air quality, seismicity, archeology, and land use of the area. The Environmental Impact Report (EIR) for the project includes 61 background technical reports and is the most exhaustive EIR ever prepared by the County. The County of San Bernardino conducted over 50 hours of public hearings and meetings on this matter and devoted an unprecedented amount of staff time. 
Of course, Bolo Station was not approved without opposition. It has been vigorously opposed by one nearby landowner. That company, Cadiz Land Company, has asserted NIMBYism with a vengeance through extensive opposition testimony, a $75 million lawsuit against the County of San Bernardino, and an initiative campaign to ban the landfill. Cadiz, a land and water speculation company, has mounted a challenge to the Bolo Station site based primarily on the premise that Cadiz's existing agriculture operations more than four miles from the landfill site will be adversely affected by the landfill operations and that the landfill is sited over potable water. 
In fact, Bolo Station is a modern state-of-the-art landfill with double liners 1,000 times more protective than the highest federal requirements and is sited over saline water. As the County determined, the landfill can coexist compatibly with all nearby businesses, residents and farmers. 
Is there a perfect location for rail hauled trash? Probably not. There is no location that could ever be approved without opposition. However, the Bolo Station landfill site has been identified through a technical review process and a public approval process spanning over six years as the best location available in the region. Short of sending our garbage into space, there is no better alternative to the safe long-term disposal of solid waste in Southern California.
By Benjamin Reznik, a partner at Reznik & Reznik, who represents Cadiz Land Company.
As is true with most land use decisions, no "perfect" location exists for the siting of a landfill. However, the proposed location of the Rail Cycle project in San Bernardino County is not only far from perfect, but is outright inappropriate and dangerous to its surrounding community.
It is difficult to dispute the idea of hauling trash by trains from Los Angeles County, and other parts of Southern California, to more remote locations in the state. However Rail Cycle's proposed mega-landfill (the largest ever proposed in the history of the world) would create an artificial "mountain of trash," ultimately rising 400 feet above the pristine desert floor, with a base that covers approximately 5 square miles, directly adjacent to Bristol Lake, visible from Historic Route 66 and the recently created Mojave Desert National Preserve, and most significantly, separated from a major source of potable groundwater by a liner whose thickness is measured in terms of millimeters. It is hardly surprising that San Bernardino County voters resoundingly rejected licensing Rail Cycle's massive dumpsite in the March primary election. 
Compounding the inherent problems with the Rail Cycle project is the fact that nearly 10,000 acres of land immediately adjoining the proposed mega-landfill has been recently approved for agriculture use by the County Board of Supervisors. In fact, approximately 1,300 acres is already under cultivation by Cadiz Land Company which is successfully producing grapes and citrus for the commercial market. This has been accomplished by tapping into a vast body of underground water containing an estimated capacity between 12 and 22 million acre-feet, with sufficient recharge rates to support a continued expansion of agricultural operations. In fact, so much water underlies the land adjoining the proposed Rail Cycle site that the Mojave Water District is currently studying the possibility of purchasing some of this vast resource for its domestic use. Of course, all of this would be placed at great risk if the landfill were to leak!
And leak it will! Just about every landfill ever constructed has ultimately leaked. In fact, the chances of this Rail Cycle landfill leaking increase dramatically given the level of earthquake activity in this region. However, once the Rail Cycle landfill leaks, it would be too late to curtail the damage to adjoining land and the large underground water supply for the simple reason that the damage would have been accomplished by the time any such a leak is detected. 
The EIR/EIS for this project determined that there will be significant and unavoidable adverse impacts on the environment, including adverse impacts on air quality and impairment of the visual character of the area. The County Board, on a controversial 3 to 2 vote, narrowly approved this project and traded in the adverse impacts for the money it hopes to gain in the form of "tipping fees." 
In the March Election, 58% of the voters rejected Measure M which would have approved this arrangement, and in so doing sent a clear message to the Board that this is a terrible project. 
The simple solution is to move the Rail Cycle project so that such adverse impacts are avoided.